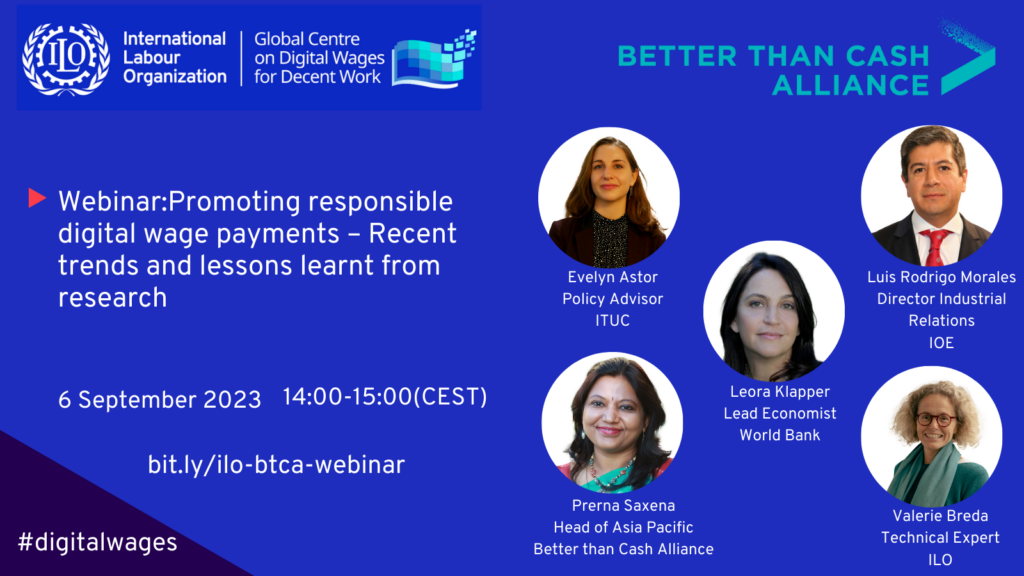 Promoting responsible digital wage payments – Recent trends and lessons learnt from research
The ILO's Global Centre on Digital Wages for Decent Work and the UN-based Better Than Cash Alliance organized this session as part of the Global Learning Exchange Series on Digital Wage Payments. The Global Learning Exchange Series brings stakeholders together to share learning, challenges, action-driven recommendations, tools, and methodologies to better support and accelerate the transition to responsible digital wage payments.
In this webinar, we discussed recent trends in digital wage payments and challenges for its responsible implementation. We drew on the findings of the Global Findex Database, the recently released ILO Brief on Promoting Responsible Digital Wage Payments as well as recent evidence and learnings from a selection of countries.
We were honoured to host industry experts as speakers who shared valuable insights and best practices and on the topic.
Speakers:
• Leora Klapper, Lead Economist, World Bank Development Research Group
• Luis Rodrigo Morales, Director for Industrial Relations and ILO Coordination, International Organisation of Employers
• Evelyn Astor, Economic and Social Policy Advisor, International Trade Union Confederation
• Prerna Saxena, Head of Asia Pacific, Better than Cash Alliance.
• Valerie Breda, Technical Expert, the ILO's Global Centre on Digital Wages for Decent Work
Date:

15/09/2023

Resource type:

Events

Institutions:

ILO Global Centre of Digital Wages for Decent Work and Better than Cash Alliance